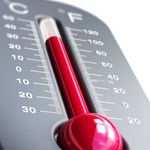 Remember the unseasonable warmth of last weekend?
It's back again this weekend plus a little, says the local National Weather Service forecast.
After a couple more days of nid-30s, Saturday's high is forecast for 52 and Sunday's for 55. Saturday should be sunny and clear of rain, but there's a 40 percent chance of rain Sunday.
After that warm spell, temperatures look to be returning to the more seasonable 30s range.