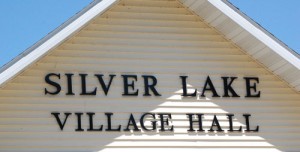 The Silver Lake Village Board and outgoing Clerk/Treasurer Terry Faber issued a joint statement Friday seeking to clarify the circumstances that led to Faber's departure.
The board unanimously approved (Trustee Carolyn Dodge was absent) a separation agreement with Faber at Wednesday's regular board meeting.
The statement, distributed to local media via email from village President Bruce Nopenz, stresses that Faber's departure is economic, not based on the performance of her duties, despite recent criticism of her by at least one village trustee.
The statement says in part:
While acknowledging that there has been controversey, the decision for her to leave was based upon an understanding that the treasurer and clerk serve at the pleasure of the board and the board is concerned with cost cutting, as evidenced by other village reductions and Mrs. Faber's resignation is directly a result of an effort to reduce overhead at the village. Mrs. Faber does not, by resigning, admit any of the allegations that have been speculated upon and in fact denies either any inappropriate or unprofessional behavior in the fullfillment of her 11 years of service to the village. It is important for all to understand that she resigned without any findings of disservice as malfeasance and the parties to the severence agreement all agree that her work record as the clerk and treasurer, has been honest, professional and diligent."
The statement also says Faber has agreed to assist her successor as clerk with the upcoming April election.
On Wednesday, after the separation agreement was approved, Nopenz said he wanted to explore reassigning duties among the remaining two office staff members, rather than hire a replacement for Faber.
"You don't need three full-time people," Nopenz said. "This village is small."
Nopenz said the agreement is effective March 4. The agreement includes severance pay.