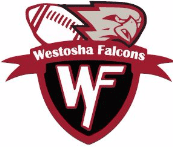 The Westosha Falcons Youth Football (WFYF) feeder football program invites local youth in 4th through 8th grades (current grades 3rd-7th) to join our 100% all-play football league for the 2016 season. WFYF athletes are guaranteed playing time on game day on offense or defense. A focus on safety, sportsmanship, fundamentals, and academics, as well as direct coordination with the Central High School Football program, sets WFYF apart from the rest.
Sign up at WFYF in-person registration Wednesday evenings in February and March. New player and returning player season fee is $175 until April 1st and $200 after that date. There is a $25 registration discount per additional sibling. All registered players receive a free youth football t-shirt and wristband.
Practices will be held at Westosha Central High School with summer camp in July and player conditioning beginning August 1st. All league games will be played Saturdays in September and October.
WFYF IN-PERSON REGISTRATION DATES: Wednesday evenings, February 17th and 24th and March 2nd, 9th, and 16th, 5:00p-7:00p Westosha Central High School lobby.
Please contact (262) 287-6281 or westoshayouthfootball@gmail.com for more information.