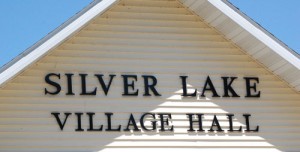 The Silver Lake Village Board unanimously approved a separation agreement with village Clerk/Treasurer Terry Faber Wednesday night.
Trustee Carolyn Dodge was absent.
Details of the agreement were not immediately available.
Village President Bruce Nopenz said the agreement is effective March 4. The agreement includes severance pay.
Faber has been village clerk/treasurer for 11 years.
In replacing Faber, Nopenz said he intends to explore reassigning duties among the remaining two full-time employees within the village office.
"You don't need three full-time people," Nopenz said. "This village is small."
Faber was present and performed her customary duties at the regular board meeting. She, however, locked the office and left the building when the board adjourned to closed session to discuss the agreement. After about 30 minutes of discussion, the board reconvened into open session and had the vote.