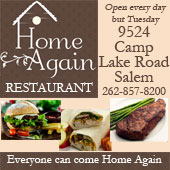 Note: Home Again Restaurant is a westofthei.com sponsor. This is a paid annuncement. — DH
Home Again Restaurant will be celebrating Valentine's Day all weekend.
On Saturday there will be soft rock acoustic music performed by Joe Wejman starting at 7 p.m. and food and drink specials all night.
Wejman  performs a mix of classic music by artists such as Eagles, The Beatles, Neil Young, Toby Keith, Willie Nelson, Super Tramp, Elto John, Ringo, Bob Dylan, Stones, Keith Urban, Triumph, Rod Stewart, Bob Seger, Rascal Flatts, America, John Fogerty, Tim McGraw, Yardbirds, Van Morrison and more. He also performs originals.
Food and drink specials will also be featured Sunday.
Home Again Restaurant is located at 9524 Camp Lake Road, Salem. Phone: (262) 885-6047.