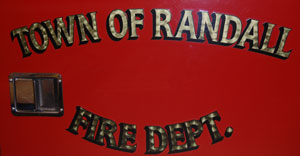 The Randall Town Board last week approved a slate of officers for the Randall Fire Department.
The approval came at the Town's Board regular meeting on Jan. 28.
The following individuals will serve two-year terms:
Chief: Matt Gronke.
Bassett Battalion Chief: Ken Foscz.
Powers Lake Battalion Chief: Buddy Pfenniger.
Bassett Captain: Bob Stoll.
Powers Lake Captain: Chris Brown.
Bassett Lieutenant: Matt Gall.
Powers Lake Lieutenant: Sam Schaal.
Treasurer: John Kaldem.
Secretary: Carlene Karow.