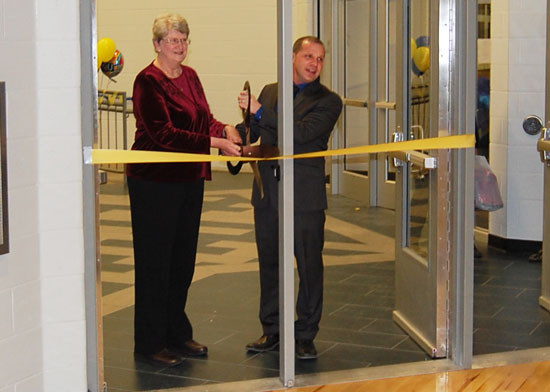 Lakewood School hosted a dedication for its new addition Friday evening.
The event included a passport activity that encouraged attendees to see all of the new features of the building, including a new gym, concession stand, lunchroom, library new music and art rooms and improvements to hallways and the middle school.
Twin Lakes Trustee Barbara Andres and district administrator Joseph Price conducted a ribbon cutting at the new gym entrance. Here is some video:
Price also gave a presentation on the project, including thanking the the community, school board, staff, students and contractors for their various contributions.
"The focus was to create the best environment possible for our students," Price said.
The Lakewood School Band performed before and after the ceremony. Here is a video sample of the selection they played after the ceremony:
The extensive school building project included: Demolishing and rebuilding a new gymnasium and constructing a new school entrance and office addition; the addition of two new classrooms with a corridor connecting the building and creating a safety enclosure for the courtyard; upgrading the science lab; remodeling the restrooms and offices; replacing and re-configuring doors and lockers, asbestos abatement, replacing floors and additional remodeling and repairs; site and storm water system improvements; and acquiring furnishings, fixtures and equipment.
"I hope you're happy with what you see as you're walking through the building," Price told the crowd.
Here are some more photos from the evening: