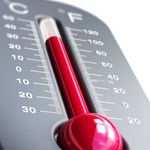 A warm next few days, peaking Saturday and Sunday, are in the local National Weather Service forecast.
Thursday's high could reach 38 and Friday's 31. But the real warm up will come Saturday and Sunday, with high temperatures expected to top 40.
The chance of rain/snow is increasing in the forecast for Tuesday, now up to 70 percent. Will that become a major storm for us? The NWS jury is still out.