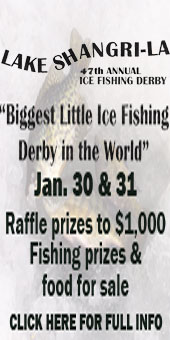 Note: The organizers of this event have advertised it at westofthei.com. This is a paid announcement. — DH.
Lake Shangri-la's 47th Annual Ice Fishing Derby — "the biggest little fishing derby in the world" –will take place this year on Saturday and Sunday, Jan. 30 and 31.
There will be hourly door prizes and fishing prizes. Derby raffle prizes include $1,000 cash first prize, $500 cash second prize and $100 cash third prize. Raffle tickets are drawn at The Community Center on Sunday at 5 p.m.
Entry fee is five $1 tickets. Pre-registration is Friday, Jan. 29 from 6 to 8 p.m. You can also register on Saturday and Sunday of the event starting at 6 a.m.
Breakfast served is available from 6  to 10 a.m. Lunch/dinner is available from 11 a.m. to 7:30 p.m. Food and refreshments are served at The Community Center 22112 121st St.
See lakeshangrila.com or the Lake Shangri-la Facebook page for more information.