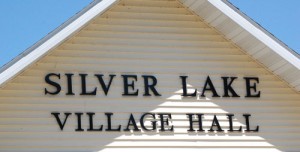 The Silver Lake Village Board tabled having Salem supervise the village's public works workers.
Earlier this month, with the retirement of longtime Silver Lake DPW supervisor Bob Williams looming, village President Bruce Nopenz had proposed having Salem supervise the remaining one full -time employee and one part-time employee in the Silver Lake public works department.
Salem town administrator Pat Casey said earlier this month that the town could accommodate the role and was open to the idea.
On Wednesday, Nopenz said the village had not yet received a written agreement for the service. Consequently the cost to the village was still unknown.
Trustee Roger Johnson argued the current full-time employee was capable of filling every department role, but he did not wish to supervise. But Johnson contended that supervision from Salem wasn't necessary, and instead the department would be better served by getting the current employees "some help."
"I don't see where we should have to pay Salem to supervise public works," Johnson said. "That's what you've got a committee chairman for."
The matter ultimately was tabled.