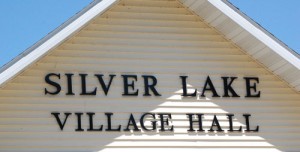 Silver Lake will seek supervision of its public works employees by Salem, at least temporarily, the Silver Lake Village Board decided last week.
Bob Williams, the village's last public works supervisor, retired as of  Jan. 8. He gave notice of that intent in December, village President Bruce Nopenz said after Wednesday's Committee of the Whole meeting.
While deciding what to do with replacing Williams, the village's remaining one full-time and one part-time employee need supervision, Nopenz said. He suggested contracting with Salem for that supervision.
Salem town administrator Patrick Casey confirmed Friday that the village has contacted the town about providing supervision. He explained via email to westofthei.com:
… The Town believes it can accommodate the supervision of the public works function and oversee the sewer treatment plant while the Silver Lake Board decides how to manage these functions in the future.  The impact on Salem will be minimal.  The Town has begun to work on and is attempting understand the scope of the work involved within the Village.  However, since we have a larger staff and very experienced supervisory personnel we do not believe it will be difficult to accommodate the request.  The Town will not take over the temporary supervision until the Silver Lake Board formally votes on the concept, which I believe is scheduled for January 20th.  However, if the Village needs assistance with tasks or snowfall/plowing prior to that time we will respond as an on call basis."