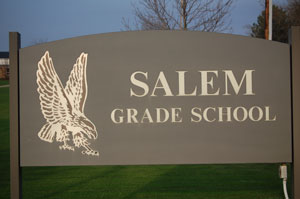 Registration for 4K and 5K students at Salem Grade School is fast approaching.
Salem offers a 4K program for students 4-years-old on or before Sep. 1, 2016. Student must register to attend this half-day program.
All students 5-years-old on or before Sept. 1, 2016, must also register for our full-day program. Salem's current 4K students do not need to register for 5K.
Registration will take place from Jan. 18-Feb. 5 from 8 a.m. to 4 p.m. Monday through Friday. Parents must bring a copy of their child's birth certificate for verification. Parents will receive health and dental forms to be completed by the family physician and dentist. An immunization card is to be completed at home. These forms are to be returned to school during the screening period or no later than Aug. 1, 2016.
At the time of registration, you will be asked to make an appointment for the screening.
In order to plan accurately for the coming fall, the school district requests parents' cooperation in registering during Jan. 18 to Feb. 5. This will give an accurate count for the upcoming year.
Anyone who knows of families with eligible children is asked to notify them of the registration. If you cannot register during the weeks indicated, please contact the school office, 843-2356 x 586, as soon as possible to make other arrangements.
The Screening is scheduled for Tuesday, April 19 and Wednesday, April 20. Appointments will be made at the time of registration.