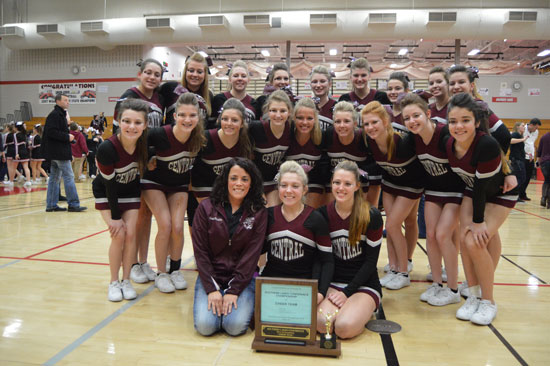 Westosha Central Varsity Cheer took first at the Southern Lakes Conference meet Saturday.
Elkhorn was second and Wilmot third.
Central also was awarded Grand Champion for earning the highest varsity score of the day.
In JV conference competition, Wilmot finished first and Central second.
Quad Stunt Groups results were: Elkhorn first; Central quad of Jaden McKenna, Joscelyn Gould, Madi Leafblad, Lauren LaPlant second; and Central quad group of Claire Fox, Madi Hansen, Bree McKenna, Morgan Langer third.
Individual All State Cheer results were: Jaden McKenna, Central, first; Rachel Kostrova, Wilmot, second; Madi Hansen, Central, third.
Central Varsity Cheer and Wilmot Varisty will be heading to the iCheer competition this weekend at Greendale High School. Central competes at 3:50 p.m. and  Wilmot Varsity will be competing at 4:05 p.m.