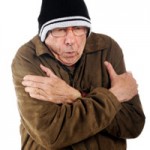 Some genuinely bitter temperatures are in the National Weather Service forecast for early next week.
The harsh temperatures will begin to hit home Sunday, when a high of 18 and a low of 1 is expected the local NWS forecast says. Highs in the low to mid teens and lows in the single digits are expected to continue through Wednesday at least.
Until Sunday, temps will continue in the 30s for highs. There's a 30 percent chance of some wintry mix Thursday and an 80 percent chance of rain Friday. Snow is likely Saturday night, but no accumulation estimate is being given yet.