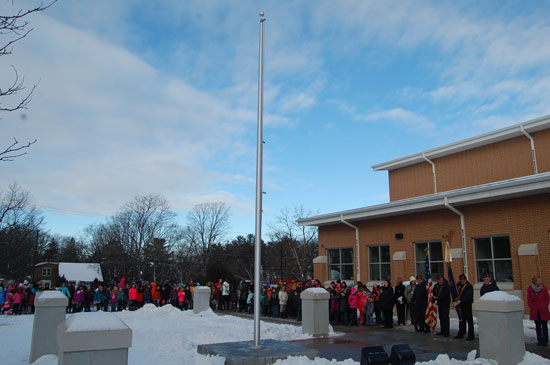 Lakewood School held a flag raising ceremony Monday to commemorate the opening of the new addition.
Representatives of American Legion Post 544-Twin Lakes presented the colors. School Board Vice President Rhett Suhre and Levi Keen raised the flags. Students witnessed the ceremony held outside at the new flagpole. The middle school band played the Star-Spangled Banner and all recited the Pledge of Allegiance. District administrator Joseph Price thanked the community for its support of the project and veterans for their service.
State Rep. Samantha Kerkman and state Sen. Van Wanggaard also attended.
The extensive school building project included: Demolishing and rebuilding a new gymnasium and constructing a new school entrance and office addition; the addition of two new classrooms with a corridor connecting the building and creating a safety enclosure for the courtyard; upgrading the science lab; remodeling the restrooms and offices; replacing and reconfiguring doors and lockers, asbestos abatement, replacing floors and additional remodeling and repairs; site and storm water system improvements; and acquiring furnishings, fixtures and equipment.
Here is video of the ceremony followed by some more photos: