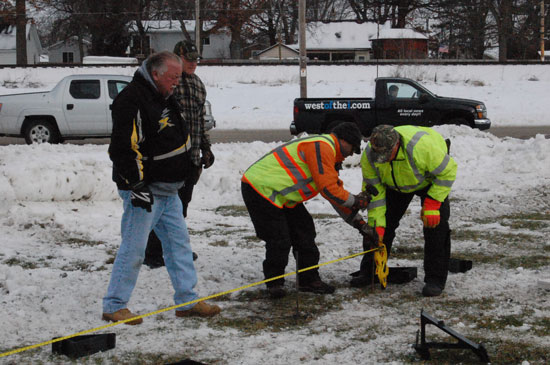 Silver Lake has an ice skating rink, just in time for the first really cold weather of the season.
Village Board members and other volunteers worked Thursday to assemble the rink at Schmalfeldt Park.
The board discussed the project all fall. The rink ended up costing about $3,800, said Trustee Doug Randolph, who organized the project as part of his chairmanship of the General Welfare, Buildings, Public Works, Parks, Public Lands & Library Committee. Most of the material will be able to be reused year to year.
About 15 people were helping at about 11:30 a.m.
All Village Board members except one who is out of town and another who has work conflicts helped, said village President Bruce Nopenz, who noted the significance in that result for a board that at times can be deeply divided.
The Silver Lake Fire Department, in one of its last officials acts, was to fill the rink with water Thursday afternoon. Randolph said hydrant water supplied by Town of Salem Fire/Rescue will be used rather than having to draw water from the lake.
Here are some more photos from the set-up a little before noon.