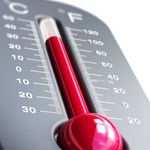 Looks like Christmas Eve and Christmas will be in the 40s and somewhat sunny, according to the National Weather Service forecast.
Yes in Wisconsin.
There is an ever so slight chance of snow tonight, about 20 percent. But accumulation is not being forecast and with Christmas' high temp around 42 it wouldn't last long anyway. Still maybe Santa will feel a little more at home as he passes through.
There is a still a NWS flood warning in effect for the the Fox River, with a slightly different scenario. Current forecasts call for the river to crest right at flood level of 11 feet. That's lower than was expected earlier in the week. That crest also is not expected to come until very early Saturday afternoon.