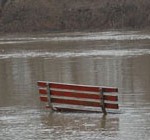 The latest round of wet weather has prompted the National Weather Service to issue a flood warning for the Fox River in Western Kenosha County.
The river as measured at the New Munster gauge is expected to exceed flood stage of 11 feet Thursday evening. a crest of 11.5 feet is forecast for about 24 hours later.
Merry Christmas.
The NWS says the river should be back under flood stage by Sunday evening.