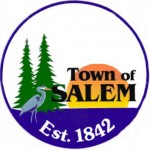 Salem will be changing how it posts notices of upcoming meetings, as a result of a change in state regulations.
The town will now post only at Town Hall and at the town's website, townofsalem.net.
In the past, the town had posted at five places: The Wilmot, Trevor, Camp Lake and Salem Post Offices and town hall.
The change is only for meeting notices. Some official town business requiring posting will have different requirements, said town Clerk Cindi Ernest.
By the way, the Committee of the Whole meeting normally scheduled for tonight has been cancelled.