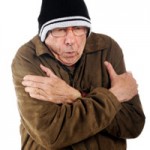 So much for that short sleeve weather. More authentic December temperatures return Thursday and will hang around for a while.
Today's high temperature in the National Weather Service forecast is a mere 34 Thursday, 29 on Friday and 30 on Saturday. Lows will be 22 Thursday, an actually frigid 16 Friday night and 25 Saturday night.
But there's a warm up expect by Sunday, with high temperatures creeping back into the 40s Sunday through Wednesday.