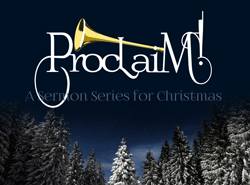 Pastor Cliff Hathcock of Community Baptist Church of Silver Lake continues "Proclaim!", a sermon series for Christmas, this weekend
The sermon series each Sunday in December is designed to help people find true hope and peace from the biblical words of Mary, Zechariah, Simeon, and Paul as they proclaim the fact and meaning of Jesus' coming into the world.
"As millions around the world celebrate the coming of Jesus to earth, it is worth considering what His coming actually means," Hathcock said. "This Sunday we look to Luke 2:25-35—"With Simeon, Proclaim His Coming."
All are invited for a message of hope and challenge this Sunday at 10:30 a.m. at the Community Baptist Church of Silver Lake. The church is located at 203 N. Fourth St., Silver Lake.
For more information visit CBC online at cbcsilverlake.org or call 889-4013.