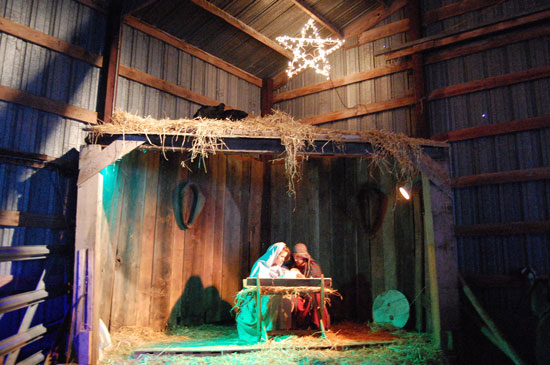 The Oak Vue Farm Live Nativity took place Friday and Saturday in Bristol.
The nativity presents the story of the birth of Jesus with live actors, music and animals in a barn on the farm owned by Matt and Jill Gillmore.
The nativity started out as a project of the Gillmore family and a few friends and neighbors, said Ed Gillmore. But as the years have gone on, people have experienced the nativity and have wanted to help out too. Besides the people portraying the various characters in the story, live animals are used. There also is a choir that accompanies the scenes with music.
This year a Saturday afternoon presentation was added to the traditional evening showings. Seating capacity also was increased with a tent adjacent to the large doors of the barn used for the nativity.
Ed Gillmore said he thinks Saturday likely marked the warmest weather in the 20-plus years of the Oak Vue nativity. It was so warm "the snow fences were melting," he joked at the end of the program.
Here are some video highlights followed by more photos: