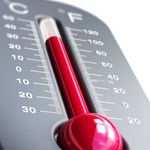 The National Weather Service local forecast suggests a unseasonably warm stretch of weather ahead for the next week.
Thursday's high temperature is expected to reach 39. But after that, highs should be firmly in the 40s through Wednesday.
Of course I guess this should not be any real surprise. September, October and November were the third warmest on record for the Milwaukee area.