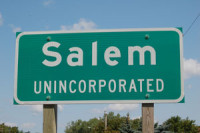 Salem electors and the Town Board  passed a 2016 budget with a tax levy increase of less than 1 percent.
The levy passed electors 26-0 at a special electors meeting on Nov. 16. The budget including the levy was also passed unanimously by the Town Board the same evening.
The 2016 budget total tax levy is $3,797,670. The 2015 budget tax levy was $3,767,913. The increase was $29,757, or .79 percent.
What effect this might have on an individual's town portion of their tax bill would depend on if there was a change in the property's assessment.