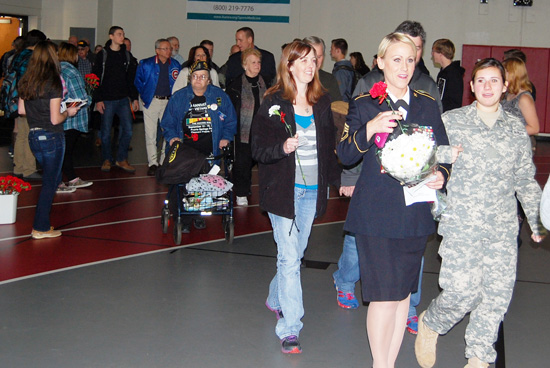 Wilmot Union High School hosted its annual Veterans Day Program Wednesday at the school's Veterans Memorial Fieldhouse.
The student body and staff attended. Organizers said there were over 100 veterans in attendance.
"Today, it is our privilege to say thank you," said social studies teacher Marlene A. Tilsner, who also organized the program.
The program started with veterans walking in to the fieldhouse as a group. Here's video of that procession:

The program included several performances by school band and choir groups. Here is a sample of one piece in which the two groups performed together:

A video of the Billy Joel song "Good Night Saigon" was shown, with students coming out of the audience with glow stick candles and forming a line in front of the stage.
The program also included remarks from Principal John LaFleur, an explanation of what is Veterans Day, a video focusing on the Vietnam War, acknowledgement of every veteran present and a moment of silence and taps. Before the program, veterans were treated to a breakfast in the school commons.
Here are some more photos: