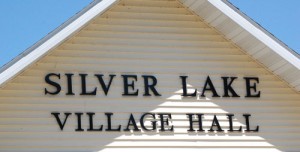 The Silver Lake Village Board appears ready to change assessors for the second time in two years.
However, that may not be as big of a change as it seems. The top candidate right now is the company that Silver Lake was employing until this year.
Last year, unsatisfied with service from Associated Appraisal Consultants, Inc., the board contracted with Accurate Appraisal anticipating that a full revaluation of the village would take place this year. That didn't happen and the board feels that was Accurate's fault.
Earlier, the board had representatives from both firms in to a meeting and asked for proposals from both. At Wednesday's Committee of the Whole meeting, the board seemed to favor returning to Associated.
The board is looking to have a complete walk-through revaluation of all properties in the village done next year. That has not been done in the village for nine years.
Associated submitted a quote of $60,000 for work including the revaluation; Accurate's quote for the same work was $54,000.
The board asked a representative of Associated that was at Wednesday's meeting if his firm could meet Accurate's price. The representative said he would check on that and report back.
The board could act on hiring an assessor at the Nov. 18 regular board meeting.