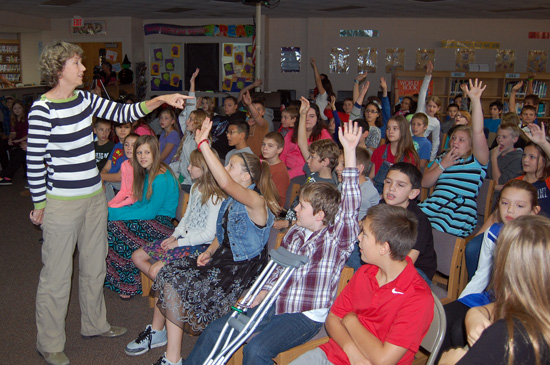 Riverview School was visited Thursday by children's author Diane B. Shore.
Shore, who lives in Georgia, met with students in first through sixth grades, entertaining and teaching them with presentations that featured a mix of history, writing advice, insights into the life of an author and kid friendly humor.
Topics touched on by Shore at her talk with fifth and sixth graders included the history of the Ferris Wheel and some of the obscure early rules of baseball. Shore also deftly worked in a number of explanations of writing concepts like alliteration, internal rhyme, metaphor and personification.
Some of her writing advice was very practical.
"Underwear is funny," Shore said.
Other advice was more inspirational. Explaining how it took her six years to get her first book contract, Shore delivered a lesson in determination.
In answer to a question, Shore revealed that her best ideas come to her when she is walking – without a cellphone — and when she is blow drying her hair.
Shore also had praise for the Riverview School library, which she urged students to use often.
"You guys have a wonderful library here at Riveview," Shore said. "Read. It will make your life easier."