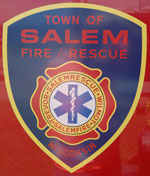 The Salem Town Board effectively accomplished a merger of its Town of Salem Fire/Rescue with the Silver Lake Fire Department and kept the Silver Lake Rescue Squad in place as an emergency medical services responder in Silver Lake with the approval of a pair of agreements Tuesday night.
The Town Board board, in a unanimous vote with all present, approved an agreement between the Village of Silver Lake and the Town of
Salem to provide firefighting, fire inspection and rescue services to the Village of Silver Lake by the Town of Salem.
The board, also in a unanimous vote with all present,  approved an agreement between Silver Lake Rescue Squad and the Town of Salem to provide emergency medical services for the Town of Salem. Under the agreement, SLRS will respond to all medical calls in Silver Lake. A paramedic from

Salem Fire/Rescue also will respond to these calls, explained Salem F/R Chief David Slover. If the paramedic is needed for the patient, the paramedic will join the crew manning the SLRS ambulance for transport to the hospital. If not needed, that paramedic will return to quarters.
SLRS providing transportation of patients is a change from how the agreements were presented to the public as recently as September, when the Silver Lake Village Board approved the agreement with Salem. It is a key point because a major source of revenue for an EMS provider is billing insurance companies for transport.
SLRS Chief Robert Johnson said his organization was pleased with the self-renewing agreement and his organization's role within it.
Silver Lake Village President Bruce Nopenz also expressed satisfaction with the agreements, including the role of SLRS. He said the arrangement should give SLRS time to figure out where it is going as a company.
"This will be of benefit to our whole community," Nopenz said.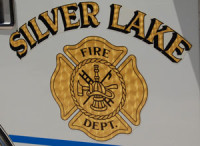 On the fire department side, Slover said SLFD members will be able to apply for positions within Salem F/R. Plans call for the Silver Lake Fire Station to be modified to accommodate overnight stays, with the cost of the modifications to be split between the village and the town.
Silver Lake firefighters will continue to respond with Silver Lake equipment to medical calls within Silver Lake, Slover said, and now will be available to respond to calls elsewhere in Salem's coverage area when needed,
The Salem Town Board had no discussion on either motion.
The service will cost Silver Lake $160,000 per year, with a provision for a consumer price index based annual increase. The contract includes credits for purchasing the SLFD equipment and rental of the SLFD fire station that will reduce that fee by $43,000 a year.
Financial terms of the contract with SLRS were not immediately available to westofthei.com.
The agreements will take effect on Jan. 1, 2016.