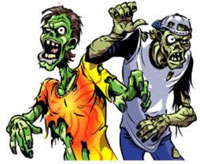 Three Harbors Council along with Cub Scouts, Boy Scouts, and Venture crews in the area are hosting a Haunted Hay Ride on Friday, Oct. 23 and Saturday, Oct. 24 as well as Friday, Oct. 30 and on Halloween, Saturday Oct. 31.
Come out and have food and fun on the Haunted Hay ride through Camp Oh-Da-Ko-Ta as well as tour the Haunted Fort. This event is open for admissions by the general public from 7 to 9 p.m. each night. All registrations in before 9 p.m. will get to take part. This is a huge event so arrive early and dress for the weather.
More wagons have been added this year to enhance the experience.
Camp Oh-Da-Ko-Ta is located at 3363 Dyer lake Road. (Highway P) just 1,25  miles north of Highway 50. Cost is $7 per person.