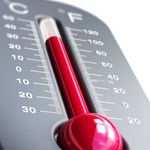 A return to warmer weather is in this week's National Weather Service forecast.
Monday and Tuesday's high temperature should reach 69 with Wednesday's just a bit higher at 71.
Monday should also be windy, with winds from 15 to 25 mph, and gusts as high as 40 mph. There's some chance of rain in forecast too: A 30 percent chance Tuesday, a 40 percent chance Tuesday night and 30 percent chance Wednesday.