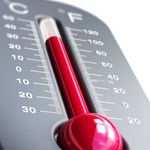 Friday may seem chilling, not even quite making it into the 60s.
But the chilly effect won't be for long, says the local National Weather Service forecast. Saturday's high temperature should creep back up into the mid 60s and surge into the mid 70s Sunday and Monday.
Tuesday through Thursday look to have agreeable temps in the 60s.
There's no significant chance of rain in the forecast today through Thursday (though looking to the north out my window this morning suggests otherwise).