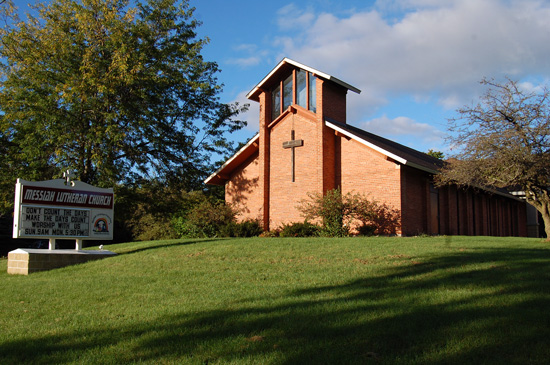 Messiah Lutheran Church, located at 8720 368th Ave. in Twin Lakes, celebrated its 50th anniversary on Sunday, Sept. 27, 2015.
The occasion was acknowledged with a service followed by a program and brunch.
On Sunday, April 11, 1965, the first worship service was held, which also happened to be Palm Sunday. The church building was still under construction, so worshipers walked planks across the mud holes in order to gain entrance.
Since then, Messiah has been a busy organization of Christian fellowship. Some activities include: Vacation Bible School, Sunday School, Adult Bible Studies, Youth Group, Messiah Christian Preschool, confirmation, multiple outreach programs, secret sister program, choir, bell choir, children's bell choir, Praise Band, and many other opportunities for serving the community and the world.
Historical Highlights:
1964: Construction began.
1965: April 11th was the first worship service with the Rev. David Borreson.
1967: First confirmation class was confirmed.
1970: Pews replaced chairs at services.
1974: Messiah women had its first bake sale.
1976: The Rev. Kenneth Jensen was installed.
1978: Two worship services implemented at 8:30 and 10:30 am.
1979: Messiah Luther Church became self-supporting.
1982: The Rev. Steve Swonger installed.
1984: The first Chicken BBQ.
1986: The Rev. Lenoard Halverson installed.
1987: The Rev. Larry Henning was installed and Advent services began.
1988: Messiah becomes member of the new Evangelical Lutheran Church in
America.
1990: First annual talent show.
1992: Purchased "Songs for a New Creation," as alternative hymnal.
1993: Parking lot paved, men's breakfast started.
1995: Praise Band formed.
1997: First annual women's weekend retreat, communion offered every Sunday.
1999: First annual Men's Retreat, Holden Evening Prayer purchased.
2000: 1st Silent Auction held for Messiah Christian Preschool.
2001: Purchased hand bells.
2002: New "Head to Heart," confirmation program.
2003: Rev. Larry Henning sings Bob Dylan's "Forever Young," at his last Sunday
service.
2004: Rev. Cliff Schmidt installed.
2005: Expansion of church building considered for future enrollment needs.
2006: Hired a Youth leader.
2007: Began construction on a new nursery.
2008: Hosted first ecumenical worship/picnic at Bassett Park.
2009: Welcomed Lynnette Vacala as our new Preschool Director.
2010: Pastor Kathy Brown began at Messiah.
2011: Four church members tandem sky dive as a response to "Jump for
Autism."
2012: Celebrated Donna Lulling's 25 years of service as our Administrative
Assistant.
2013: Several members participated in a multi-generational mission trip to the
Lakota Indians in South Dakota.
2014: Established a Sanctuary Task Force committee to help update the
Sanctuary and hopefully move into the future.
2015: 50th Anniversary of Messiah Lutheran Church.