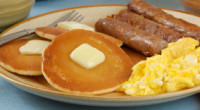 The third annual Flapjacks for Florida pancake breakfast will take place on Sunday, Oct. 11  from 7 a.m. to noon at Central High School 24617 75th St., Paddock Lake.
The menu will include pancakes, scrambled eggs, sausage. Tickets are $7 for ages 10 and up, $4 for ages 5 through 9 and children 4 and under are free.
This event is being held to raise money for the CHS band and choral students who will be performing at Walt Disney World in March 2016. It is sponsored by the Music Parents Association in partnership with the Westosha CHS Foundation.
For more information, contact 262-843-2321 ext 252.