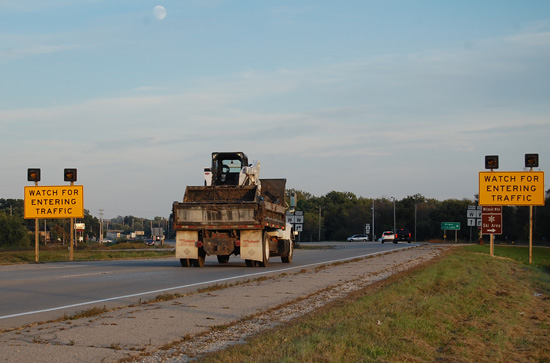 Have you been wondering what's the deal with those new large yellow signs on eastbound Highway 50 just before the Highway W-west intersection?
Turns out the Wisconsin Department of Transportation is trying out the new devices  as a way reduce crashes there.
From a press release from WisDOT:
The Wisconsin Department of Transportation (WisDOT) recently installed new warning signs with yellow flashing beacons which will be activated within the next two weeks. The device is to reduce crashes at a rural intersection in Kenosha County. The western intersection of WIS 50 and County – in the town of Wheatland, Kenosha County – has a history of severe crashes with northbound motorists on County W not yielding the right-of-way to eastbound motorists on WIS 50. At this T-intersection, there will be two yellow warning signs for eastbound motorists on WIS 50. The message on the signs is, "Watch for Entering Traffic" and should alert drivers on WIS 50 that there is traffic present on County W. Each sign will have two yellow beacons that will flash when traffic on County W is approaching or stopped at the intersection. Flashing signs like these with slightly different configurations and messages are being used throughout the country in an effort to reduce the number of high speed T-bone crashes. These crashes often result in severe injuries and fatalities at locations like these with a free-flow mainline, and a side road controlled by stop signs. These flashing signs, or intersection conflict warning systems, are relatively low cost options that have the potential to prevent injuries and save lives. WisDOT will continue to monitor the crashes at this intersection and at another proposed location in northern Wisconsin as we work toward our goal of Zero Traffic Deaths in Wisconsin.