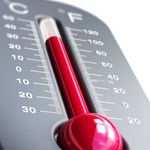 That great streak of weather we have had going for about the last week is coming to an end — starting Tuesday.
Monday we were flirting with a high of 80; the actual high temp at Kenosha Airport was 78.
Tuesday's high is forecast to reach 62. Wednesday and Thursday it will be 61. Friday just 58. Lows look to be in the 40s through that stretch.
It will still be dry though. A 50 percent chance of showers tonight and Tuesday morning is the only chance of rain in the forecast through Monday, at this point.