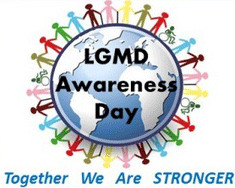 A "Cure LGMD Benefit" co-sponsored by the Tavern League of Kenosha County will take place on Sept. 30., at Local Folks Restaurant located in downtown Slades Corners.
Limb Girdle Muscular Dystrophy (LGMD) is a general term used to describe a group of genetically inherited neuro-muscular diseases. Under the umbrella of LGMD there are more than 25 identified sub-types. Individuals with LGMD experience progressive weakness and wasting of the muscles closest to their body (proximal) such as the shoulders, upper arms, pelvic area and thighs. Presently, there is no cure for this rare progressive and degenerative disease.
During this fundraising event,  participants will have an opportunity to meet Carol Abraham from Twin Lakes. Abraham helped to collaborate and organize the awareness day with LGMD organizations and patients from around the world to raise awareness of this group of rare neuromuscular diseases. Carol has been living with LGMD her entire life and is determined to make a difference for all of the children and adults suffering from this rare orphaned neuromuscular disease.
The local benefit on Sept. 30 with include $8 Soup & Salad dinner being served from 4:30 – 8:30 p.m. Come for great food, raffles and fun. All proceeds will benefit Coalition to Cure Calpain 3, an organization focused solely on finding a cure and treatment for LGMD. Local Folks is located at 39601 60th St., Slades Corners, (Burlington).
Issues of importance to the LGMD community include accessing genetic screening, obtaining an accurate diagnosis and identification of LGMD sub-type, support services to individuals and families coping with complex medical needs, the promotion of innovative medical research and product development, and insurance practices that assure patient access to medically necessary therapies.
For more information on Limb Girdle Muscular Dystrophy Awareness Day go to: www.facebook.com/LGMDAwarenessDay or visit: www.LGMD-Info.org