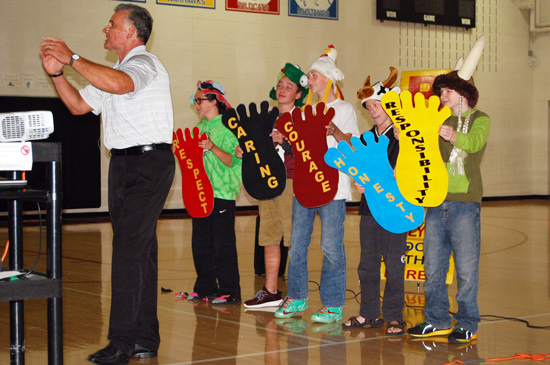 Bristol School students heard a powerful message — mixed with some fun — about standing up to bullying.
All grade levels participated in a series of presentations by Jim Jelinske from Creative Education Services Tuesday. The assemblies were coordinated by the Bristol School PTA, and paid for by The Bristol Education Foundation.
Jelinske used a mixture of magic tricks and some downright silliness along with powerful real life examples to deliver a message that we all have the power to combat bullying among our peers.
"There's way more of you than people who bully," Jelinske said.
A reoccurring story in Jelinske's presentation to the middle school students was the story of Brian, a student who was bullied and abused especially in the hallways and playground of his school. Frustrated and fed up, Brain went to his counselor and said he was not going to go on the playground anymore because the kids were hurting him. The counselor encouraged him to still try to play with others and walk away with his head held high if they rejected  him. The next day, he took the counselor's advice, but the abuse continued. Not able to take it anymore, Brain ran from the playground, into the street between two parked cars and was hit by a passing driver. He died as a result of his injuries.
After holding up Brian's picture a couple of more times during the assembly, Jelinske eventually revealed that he was Brian's counselor.
"I was the counselor who told him to go out on that playground … because I thought someone would be there" to stand up for Brian. Now Jelinske carries the anti-bullying message to children to not only to not be a bully, but to be an upstander, not a bystander.
"It's easy to follow someone who's doing the wrong thing. It takes great courage to do the right thing," Jelinske said.
Here is some video of Jelinske talking about what a bully looks like and stepping up to make a difference:
Here is some video of Jelinske talking about the power of words: