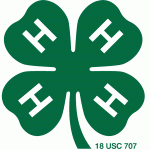 Kenosha County UW-Extension invites all youth and adults interested in learning more about 4-H to attend the 10th Annual 4-H Open House on Tuesday, Sept. 29, from 6:30 p.m. to 7:30 p.m. in the Kenosha County Center, located at 19500 75th St. in Bristol.
4-H is a community of young people who are learning leadership, citizenship, and life skills. The program is open to all youth within the grades of kindergarten through 13 (one year beyond high school). In Wisconsin, about 50,000 youth are enrolled members of 4-H clubs.
The open house will feature hands-on learning activities presented by Kenosha County 4-H clubs, including horse and pony, fishing, foods, dogs, rabbits, rockets and woodworking.
For more information, please contact Bethany Sorce, Kenosha County UW-Extension 4-H Program Assistant, at 262-857-1932 or bethany.sorce@ces.uwex.edu