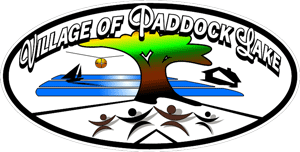 Paddock Lake officials are considering increasing the penalty for being caught dumping trash in the village.
Over the last few years, the village has established yard waste disposal facilities for residents. While convenient for residents looking to get rid of branches or leaves, the sites have also become a target for people dumping all sorts of material including unwanted electronics and potentially hazardous material, village administrator Tim Popanda said at Wednesday's Village Board committee of the whole meeting.
The consensus of the board Wednesday was to pursue a new ordinance specifically aimed at what Popanda termed "fly dumping." Popanda is proposing a first violation fine of $500 and a second violation fine of $5,000.
Such large fines are justified not just as punishment but also because the village could face considerable prosecution and clean-up costs depending on what was dumped.
"If you don't know what it is you have to assume the worst," said Trustee Richard Fish.
Trustees will still have to consider such an ordinance at a regular meeting before it can go into effect.