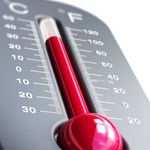 This Labor Day weekend looks to continue the heat of recent days, with some chance for rain as well.
The National Weather Service local forecast says Saturday's high should reach 86, Sunday's 90 and Monday's 83.
There's just a 20 percent chance of rain Saturday, before noon and then again after 2 p.m.
Sunday has no rain in the forecast.
Monday there's a 60 percent chance of thunderstorms, mostly before 1 p.m.
The cool off begins Tuesday and continues into Wednesday, with highs in the upper 70s. Friday's high may be in the high 60s.