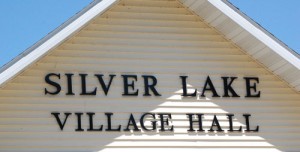 Silver Lake Trustee Roger Johnson has been removed as chairman of the General Welfare, Buildings, Public Works, Parks, Public Lands and Library Committee by President Bruce Nopenz.
Johnson said he was notified of the move in a letter from Nopenz dated Aug. 25.
In an email exchange with westofthei.com, Nopenz confirmed the action and said it was prompted by what he saw as "poor performance" by Johnson. He declined to elaborate on specific examples "at this time."
Johnson supplied a copy of the letter to westofthei.com that he says he received from Nopenz. In that letter, Nopenz said the removal was for Johnson's "involvement in the Village Hall build out that were not done in a proper manner or communicated openly or honestly. I had initially chosen you for your leadership in the past for the Village and I'm greatly disappointed in what was done."
The redecorating of the Village Hall meeting room took place late October 2014. Then police Chief Andrew Trudeau told the board he coordinated the remodeling, tapping donated labor with a total cost of under $1,500, the village's limit for spending without bids and board approval. But a recently completed audit of village funds showed costs related to the redecorating of $3,666, The Westosha Report reported.
Nopenz' letter to Johnson goes on to say that Nopenz' decision "is final and a new appointee will be named as the Committee Chairman."
Tuesday, Johnson said he had no connection to planning, approval or execution of the meeting room rehabilitation. He said he did stop by briefly while the work was being done after hearing about it.
Nopenz appointed Trustee Doug Randolph  as the new chairman. Trustee Carolyn Dodge also serves on the committee.
A meeting of the General Welfare, Buildings, Public Works, Parks, Public Lands and Library Committee was scheduled for Tuesday at 7 p.m. (Note: I was not aware of the meeting until 8 p.m. Tuesday — DH) The agenda included several items including discussion of the following topics: basketball court, ball diamond, ice skating rink, fireworks, shade trees on School Street and Christmas tree decorating.
Johnson said he was approached by Nopenz about holding a meeting on those topics, but Johnson felt it would be more appropriate closer to 2016 budget time.