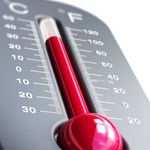 The high temperatures Saturday and Sunday hereabouts should be higher than they've been in a while, says the National Weather Service forecast.
Saturday's high should reach 89. Sunday should take it up a notch to 90.
Monday should be a bit cooler with a high of 85 before a cooling trend hits. High temperatures Tuesday through Thursday should be in the high 70s, with a forecast of rain and thunderstorms of 50 percent or greater Tuesday, Wednesday and Thursday.