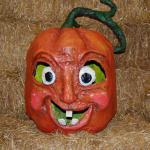 Vendors are being sought for a Craft Fair & Flea Market at Salem PumpkinDaze, Sat. Oct. 24, from 9 a.m. to 4 p.m.
This is Salem's 4th Annual Pumpkin Daze Event.  Crafters and artisans are indoors and new this year, flea market is outdoors.
Please call the Salem Town Hall for information and to reserve your spot. Call and ask for Shannon at 262-843-2313.