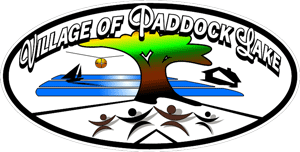 The Paddock Lake village trustee seat being vacated by Kathlyn Barry will remain vacant until after the municipal budget process is completed, village President Terry Burns said.
That should be at least until late October.
Burns said to keep the seat vacant for awhile was the consensus reached by the board at a committee of the whole meeting Tuesday. The feeling was that to have a new trustee start in the midst of the budget process would bog down progress.
"There's really too much going on right now," Burns said.
Barry resigned in a letter dated July 22; the resignation is effective Aug. 31. She served as a trustee since June 2013, when she was appointed to fill the term of Trustee Jill Smart, who resigned shortly after losing a race for village president to Burns. Barry was re-elected in April 2014. Her current term ends April 2016.
Barry, in her resignation letter, cited additional work obligations she felt would interfere with her trustee duties as the reason for her leaving the board.
In Paddock Lake, a trustee vacancy between elections is filled with an appointment by the president with approval by the Village Board. Possible candidates for an appointment were not discussed Tuesday, Burns said.