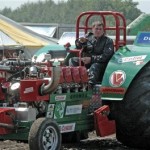 Note: Kenosha County Fair is a westofthei.com sponsor. — DH
The Kenosha County Fair has plenty of pull — as in pulling competitions.
The fair's pull categories range from garden to 14,500 pound tractors.
There are two nights of  tractor and truck pulls at the fair.
On Wednesday Night of Fair Week starting at 6:30 p.m.
5,000 lb ILLini Sanctioned
7,000 lb ILLini Sanctioned
6,000 lb ILLini Sanctioned
Modified tractors
Workstock diesel trucks
Altered Farm Heavy Tractors
Prostreet Gas Trucks.
The Thursday 6:30 p.m. program is:
9,500 lb Farm Stock
14,500 lb Farm Turbo
7,000 lb Altered lite
Street Diesel Trucks
Super Stock Trucks
Modified Tractors
ProStreet Diesel Trucks.
The pulls take place in the Wilmot Raceway in front of the grandstand. Admission to the pulls is free (gate admission required). The pulls are followed by combine demolition derby, unless there is a threat of rain. Then the combine crunching will go first.
If the big iron isn't your thing, you might want to check out the garden tractor pull. The event starts at 10 a.m. Saturday of the fair, with weigh in starting at 9 a.m.
The garden tractor pull has 10 classes, including two for children 10 to 15 years old.
Places first through sixth win cash prizes.
The Kenosha County Fair runs Aug. 19-23 this year.