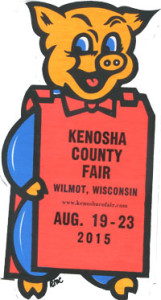 The music lover will have daily reasons to attend the Kenosha County Fair.
A variety of acts coming to the Creekside Stage should mean most everyone finds something they can tap their foot — or bob their head — to.
Here's the lineup and a link to the band's website, when available:
Wednesday, Aug. 19, 8 to 11 p.m., Nick Datillo Karaoke Show.
Thursday, Aug. 20, 8 p.m. to midnight, The EcoLimes.
Friday, Aug. 21, 8 p.m. to midnight, Stetsin & Lace.
Saturday, Aug. 22, 8 p.m. to midnight, Bella Cain.
Sunday, Aug. 23, 1 to 3 p.m., Burro Creek.
Sunday, Aug. 23, 4 to 7 p.m., Class of '62.
There also is plenty of music, in a variety of genres, at the talent show, on Thursday, starting at 6 p.m. at the Free Acts Stage near the fair office.