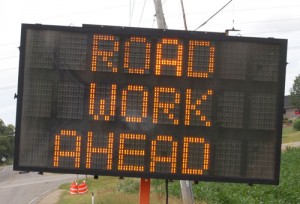 The date on which the entrance ramp to Highway 12 from Highway 50 will be closed for construction has been changed by the Wisconsin Department of Transpostation.
From a WisDOT announcement:
Beginning 7 a.m., Tuesday, August 11, the Wisconsin Department of Transportation (WisDOT) is scheduled to close the entrance ramp from WIS 50 to US 12 westbound, in Walworth County. The closure is expected to last until 8 p.m. The closure had been planned for Monday, but the paving contractor's asphalt producing plant broke down, putting crews a day behind schedule. This closure will affect the morning and evening commutes on Tuesday, August 11.
The detour for Highway 50 westbound motorists during the construction is: Proceed through the US 12/WIS 50 Interchange to access Edwards Blvd; go north on Edwards Blvd., continuing as it turns into Sheridan Springs Road; continue west on Sheridan Springs Road to County H (Interchange North Road); go east on County H to access the US 12 westbound on-ramp at the WIS 120 Interchange. More information about the project can be found on 511 Wisconsin at http://projects.511wi.gov/us12wis50/