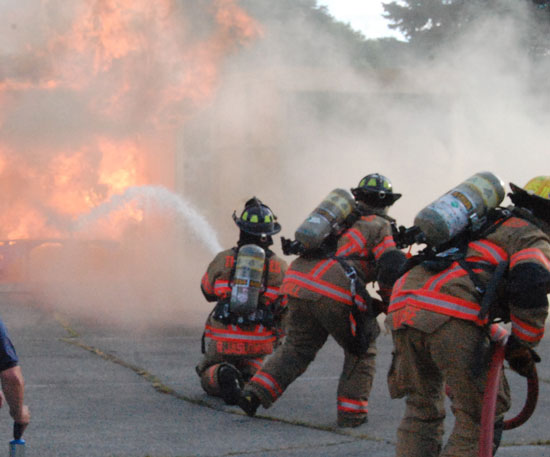 The Twin Lakes Police Department and Twin Lakes Fire and Rescue hosted their annual National Night Out at St. John Catholic Church in Twin Lakes Tuesday evening.
The event gave community members a chance to interact with their police officers and firefighters in a relaxed fun atmosphere, giving each a chance to get to know the other better.
The event included several displays of police and fire skills at work including a police K9 demo, a comparison between a room on fire with sprinklers and one without and how not to deep fry a turkey. Flight for Life medical transport helicopter also made a visit.
Here is some video of the ladder climb, in which firefighters from Twin Lakes, Wheatland and Randall competed to see who could make it first to the top of a 75 foot ladder set at a 45 degree angle:

Here is video from the Kenosha County Sheriff's Department K9 demo showing how the dog can be released from a car to assist an officer:

Here is some video of what happens when you don't deep fry a turkey the correct way:

Here are some more photos from the event: