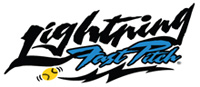 The Wisconsin Lightning 18U girls Fastpitch team split their first two games in opening action at the ASA "A" Nationals in Spartanburg, SC.
The Lightning lost Monday afternoon 6-2 to Triangle Lightning, NC and came back Tuesday morning to defeat Axe Elite 18U from Allen, Texas 5-0. They now advance to play Wednesday morning as bracket play begins.
In opening action Monday, Lightning got off to a fast start as Sam Schloegl opened the first with a lead off walk, advanced to second on a single to left by Jessica Heffel and scored on a one out RBI single to left by Justine Schattner. Triangle then countered with a pair in the bottom of the first and second making making it 4-1.
WI Lightning then came back with an RBI single to center in the top of the third by Heffel scoring Meagan Spohr who had reached on an error, cutting the deficit to 4-2.
The score remained until Triangle added 2 more in the bottom of 5th, making the final 6-2. Kali Kaestner took the loss for WI Lightning giving up 7 hits, while striking out 5 and walking 2.
In Tuesdays action against the AXE Elite 18u, Schloegl scored after a lead off walk, steal of second and an RBI double to left center by Larkin Langston in the top of first making the score 1-0. The score remained the same until the top of the fourth. After a 1 out walk to Langston and 2 stolen bases, Schattner delivered an RBI single to center. Lexy Kemnitzer followed with a single to center advancing Schattner to third. After a strikeout, Lauren Orszula delivered an infield RBI single scoring Schattner making it 3-0. The Lightning added a single run in the 5th with an RBI double by Paige Kitzing scoring Ashley Madsen. In the 7th, Kitzing drove in another run with an RBI fielders choice making the final 5-0.
The Lightning got a stellar shut out performance from Lexy Kemnitzer who limited the Axe to 5 hits, with 3 strikeouts and no walks.
The WI Lightning 18U members are Sam Schloegl, Lauren Orszula, Justine Schattner (Wilmot Union); Larkin Langston, Liz Fonk, Heidi Holmstrom (Westosha Central); Lexy Kemnitzer (McFarland); Paige Kitzing, Jessica Heffel (Racine Case); Katherine Walsh (DSHA); Meagan Spohr (Richmond); Ashley Madsen (Kettle Moraine); Kali Kaestner (Mukwanago); and Ana Brown (Johnsburg). The WI Lightning is managed by Scott Hermes with coaches Steve Spahn and Kevin Orszula.