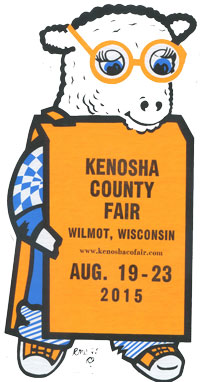 Note: The Kenosha County Fair is a westofthei.com sponsor. — DH
Fairgoers with talent can display their skills at the Kenosha County Fair.
The fair will host a talent show at the Free Acts Stage — one night only — on Thursday, Aug. 20, starting at 6 p.m. This is a change from previous years in which two shows were held.
The talent contests are open to amateurs ages 2 to adult. There are some changes this year to the Kenosha County Fair Talent Show. These changes have been made to align with the Wisconsin State Fair Talent competition that will occur for the first time this year and hopefully for years to come.
There are only 3 divisions. Youth, Teen and Adult.
All categories will compete against each other. No separate sub categories. For example, no DI Dance solo separate from DI Vocal Solo. No Adult will advance.
You can find the  entry form and rules here. All entries are due at the fair office (or postmarked by) Aug. 1.
The Wisconsin State Fair will be having a Talent Show during the Wisconsin State Fair. To be entered into this  competition you must compete and win either the youth or teen division at a Wisconsin State Fair sanctioned event. The Kenosha County Fair will be a sanctioned event but the performers would not compete until the 2015 Wisconsin State Fair. If you are interested in this event please read more on the form for the Kenosha County Fair Talent Show.
The Kenosha County Fair runs this year from Aug. 19-23.